"Which way to the race?"
Distance- 2.34mi of beautiful open water
Time- 1:08.24
Result
- 9th in age group/ 229th out of 864 swimmers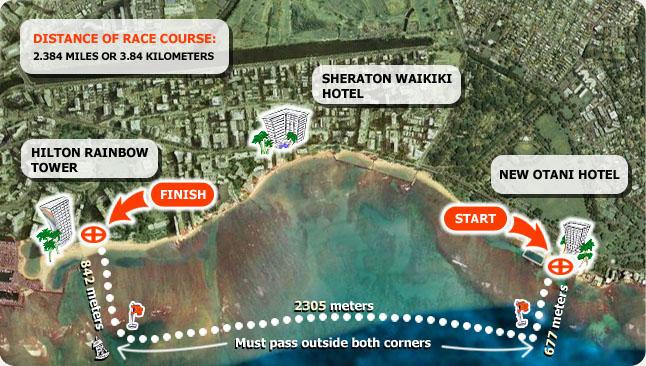 Official Map of Officialness
I came in to this morning with high expectations of myself. I'm back into a solid training routine, I've been killing it during my swims, and I felt like I should be able to get out and get to the Go today. So that's what I did.
But first, a short history about the race. (Haha, I'm a teacher.) This course is the course swum in the original Ironman, setting the now traditional distance for that event's swim. Also, the bike of an Ironman is 112 miles because that's one lap around the island, a course still celebrated today by the
Dick Evans Memorial Road Race
, which happened yesterday. And the Honolulu marathon course is the course that closed that inaugural race out. The
Ironman World Championships
have since been moved to Kona on the Big Island, and will be taking place on October 8th. So this race, this swim, is an important one for me as a triathlete. Without it, the sport never would have taken off as it has. Thus endeth the lesson. See? Short. (Matt, I can hear you laughing from here.)
It was a 9:00 am start time, because swimmers are much more reasonable that triathletes, which meant Super Awesome Wife and I didn't even have to leave the house until 7:00. This is better than a school day! We got to Waikiki, didn't struggle to find parking, and I got chipped and numbered. Right away we ran into Team Bloody Mary, who I mentioned in a few of my other race reports. The whole team was out to support Tim, their relay's swimmer, who has no interest in beating anyone and complete interest in enjoying the race. Apparently I've been around them enough that he and his runner have decided I'm one of their Three Musketeers, but they haven't determined which one yet. I'll let you know when I find out.
I also ran into the Tri-N-Hawaiian and some of his friends pre-race. It was cool to meet people who up until then existed only in cyberspace. Blogs forming actual social interaction. Who knew?
From left: Friend Guy, Dirtbag, Tri-N-Hawaiian
Through the magic of seeding, I was in the third wave out, C group. Probably could have been in wave B, but whatever. So I had a green cap. Green for C. Got it? Wave B had red caps and the wave behind me, you guessed it, D, has yellow caps. This is important so let's review. Red for B. Green for C (and me). Yellow for D.
Why there were five waves. You can see Wave B starting out.
I watched A and B carefully to see where the first buoy was. Unlike my last two open water swims, this course was beautifully marked the whole way. Straight out and then a right turn 677 yards from the beach, follow the yellow buoys, which appeared probably every 200 yards or so, for 2300 yards, then a right at the last orange for a 842 yard drive to the finish. I'm jacked and ready to go.
I got myself to the front of the group and toed the water's edge. There was no way I was swimming over people to start. They gotta catch me. At the horn I gave a shout and out I went. Hard. I knew that I needed to be in the thinner leaders group at the turn so I wouldn't have to worry about traffic. Got it done.
After the turn I thought, Ok, now the race really starts. I put my head down, nailed my cadence, and went after it. Having regular buoys was very helpful because I didn't worry about keeping on track. An easy heads-up stroke every few yards was enough to make any small course corrections needed. For a while there in the middle I swam right next to another guy and we were trading leads for probably 75% of the middle section. It was great. Helped me stay motivated and on course. When I'm in the water and I get to play with someone like that, the Tattooed Wake wakes up and says, "He's gotta hang with us, because we ain't going anywhere. We will wear him down." Sometimes I love that guy. I don't know where my shadow finished, but I think I dropped him.
It wasn't too long into the middle section that I started passing red caps. Red as in Wave B. As in they started five minutes ahead of me and I'm rocking by them. This did wonders for my mental state, fairly strong to begin with. The current was friendly, I was feeling no pain, my stroke felt well put-together still, and gains are being made.
Then a yellow cap zipped by me. I don't know how many passed me, I wasn't counting and it wasn't
that
many, but they were flying. There was no, "I shall hang with you and wear you down," about it. There was only waving good-bye to their feet.
Eventually I started looking at the next yellow buoy and thinking, Anytime now for that orange buoy to make an appearance, that would be stellar. And lo and behold, there it was. Time to turn in to shore and gun it. I hadn't been saving my legs, but there comes a time in every race where the swimmer decides to cut loose what's left. So I focused on keeping my stroke long and strong and bringing my legs to bear. There will be no ride later today, I decided. And there will be some discomfort from exertion post-race. Bring those things, I'm going to start writing checks that I'll cash later. Before the race started I had committed to suffer and burn. I was not going to fear out of that commitment now.
I nearly got lost on that 800 yard swim in. There were two buoys marking the path but after the second I had a hard time getting a visual on the finish. If I had one complaint about the race it would be that the finish line should have had taller flags or balloons. It was the only time during the race I breast-stroked to get my head up long enough to be sure I was headed in the correct direction. Then down and go. In this final drive to the finish I saw something I was hoping to see: A big sea turtle cruising along the bottom in the other direction. How cool is it to race in Hawaii?
I got to race someone else to the finish and, to be honest, he beat me to the beach. But I beat him across the line. I know it's a swim race, but the finish line is a hundred yards up shore. I can sprint that and I always do. The race isn't over until you cross the line, and I ran hard for it. Why stop pumping now?
My race clock time was 1:18, take ten minutes off that for the first two waves and I end up with a respectable 1:08. My goal time was an hour, which would have meant that I held a 1:30/100yd pace the whole time. I wasn't really expecting to get that, 4000 yards is a long way, so I can't say I'm displeased with my result. I got in, I worked hard, and when I hit the beach I don't know how much more I could have put in to it. As an athlete who is never satisfied, there is part of me that thinks, I could have given more, hurt more, pushed harder. But that part isn't very loud today.
After the race, Super Awesome Wife and I hung out with Team Bloody Mary on the beach for a bit, chatted with the
Tri-N-Hawaiian
, and then we went to the mall because its cooler than our house right now. And where else would you go after making it hurt for 2.34 miles in the ocean?
I would like to thank Super Awesome Wife for her support, and my sponsor
Background Profiles
. Because of them I get to do this, and I got to eat a GU before the race, which probably helped. And thanks to Team Dirtbag Friends and Family who tried to
watch the race online
but missed my finish because my Dirtbag Awesomeness overwhelmed the series of tubes which make up the interwebs.
Got some. Go again.
Official Race Key Chain
Really nice race t-shirt (and keychain), I love race swag!
No armpit chafing this time! Yay Body Glide! (You may now giggle at the name)
Dirtbag Tough. (Look at how intimidated the girl to the right is.)